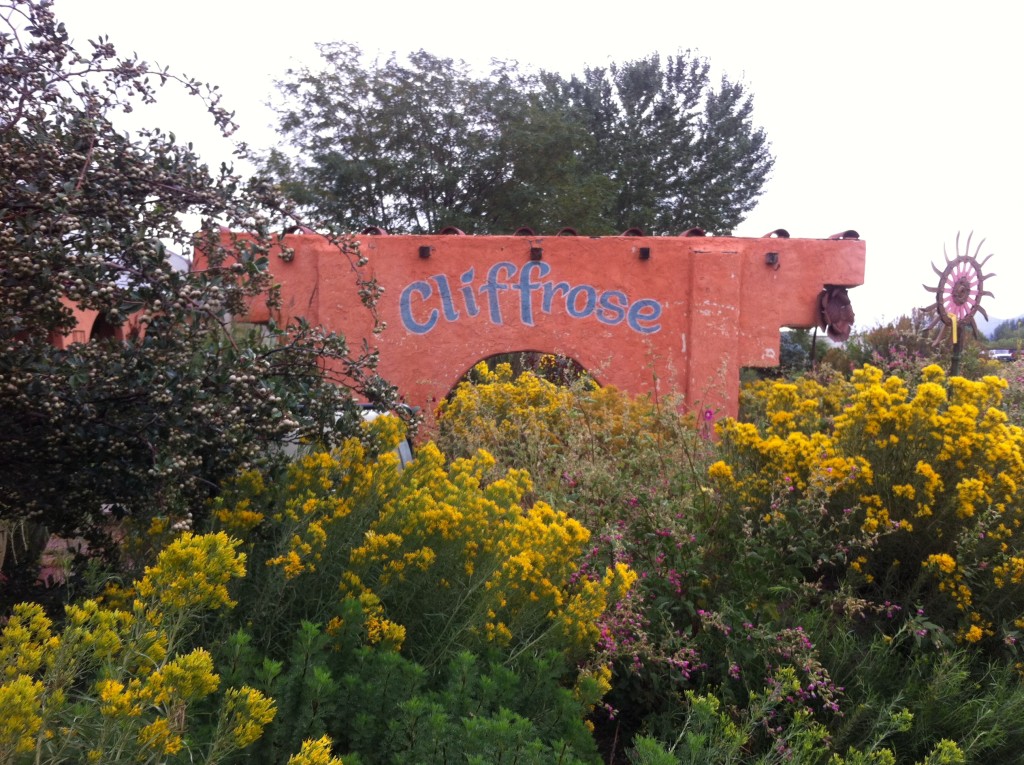 Cliffrose FALL SALE is continuing through October
25%   OFF all Trees, Shrubs, Vines and Fruits.   ALSO  25% OFF of all Perennials and Ornamental Grasses.   
We have started our Fall Hours.   We will open  10-5 everyday of the week.    We will keep these hours until   the Christmas season starts.
Lets hope we get the expected rain from Hurricane Rosa this next week.  It is a great time to start winterizing your landscape.  We carry Winterizing lawn fertilizers and great fall fertilizers for perennials and shrubs such as  MaxSea 3-20-20 and GroPower 3-12-12.   Both of these fertilizers are low in nitrogen and high in phosphates and potassium which help plants make it through the cold and fickle winter season.  Let the rain help you push the fertilizer into the root-zone of the plants.
Tree wrap is great to put on your young Maple, Ash, Linden and Locust trees.  Or any thin barked tree you want to protect.  We recommend wrapping from around Halloween through Tax Day in April.   Tree Wrap can help protect these thin barked young trees from Sun Scald and future frost cracks on the south and west sides of the trunk.   Tree wrap can also protect from rabbits, deer and rodents.
We also have a great heavy duty plastic mesh tree guard in 2,3 and 4 foot lengths.   These are wonderful for protecting tree trunks from deer, rabbits and  some rodents and can be left on all year.
Fall is a great time to plant at our lower elevations.   The soil is warm and even though we might have a frost, the ground usually does not freeze until after Halloween and sometimes after Thanksgiving.   So, your fall planted plants can get quite a bit of root growth before they go dormant.   Watering and mulching are  key to successful fall planting.   Ask us at Cliffrose to explain this.   It depends on what you are planting and where you are planting it.
Spring Blooming (fall planted) bulbs are ready for planting now.  This includes Tulips, Daffodils, Crocus, Allium, mini Iris, Hyacinth and unique grape Hyacinths.   Mention to our cashier that you read our newsletter and get 25%off your BULB PURCHASE through October 31.   Enjoy!
If you have not moved your tropical patio plants inside yet for winter, make sure you clean them up, check and spray for insects if needed, cut back leggy growth and fertilize.   We innocently bring in all sorts of unwanted critters with our outside plants.    Safers makes a couple of great Organic sprays for Patio Plants.   
Please check out our wonderful  Downtown Cortez store  "Cliffrose On Market" it is on the corner of North and Market.  It is an Urban Garden, Kitchen and Gift shop.   
We do not hand Desert Dollars out on anything on Sale above 15% Off.  
Our Holiday Open House will be the weekend of November 10th & 11th. FYI
Enjoy!
See you soon.
Remember us for ……
FALL & WINTERIZING SUPPLIES
DUTCH SPRING BLOOMING BULBS
GIFT CERTIFICATES
DAY OF THE DEAD GIFTS
ORGANIC SOILS & PLANT FOODS
NON GMO FALL SEEDS
BOTANICAL SOAPS
GREAT UNIQUE GIFTS
GOURMET KITCHEN DIPS & BRIE TOPPINGS
MELISSA & DOUG CLASSIC KIDS'  TOYS
SCIENCE THEMED TOYS
FAIRY & MINIATURE GARDEN SUPPLIES
TILLANDSIA 'AIR PLANTS'
INDOOR CACTUS & SUCCULENTS
& MUCH, MUCH MORE.