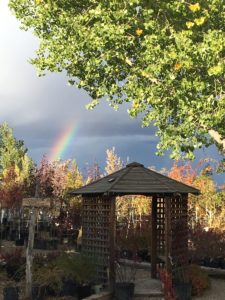 Please register in advance for classes & workshops.
---
Fruit Tree Pruning taught by Francois.  Practical techniques for proper timely pruning of your fruit trees and fruiting vines/shrubs.  
Saturday March 10th at 11:00 am    $5
---
Shade Tree Pruning & Flowering Shrub Pruning:   Ric will go over the sometimes confusing pruning schedules and techniques for plants in your landscape.

Saturday March 10th at 1:00 pm   $5
---
 Rose Bush Pruning:   Ric will teach how and when to prune all types of roses.   Do not start too early.   Best off waiting until April.
Saturday March 31st at 11 am  $5
---
 Beginning Vegetable Gardening 101:  Learn some of the basics of seeding and planning/planting your first veggie garden.
Saturday March 17th at 11am  $5
---
Beginning Drip Irrigation 101:   Learn the basics of how to install your own drip system.
Saturday April 14th 11am  $5
---
 Organic Gardening:  A perfect class for Earth Day Weekend.   Learn how to approach gardening with the most positive soil, plant, animal and environment friendly gardening ideas.
Saturday April 21  11am  $5
---
---